Italy takes down World Champion'ss Norway in the third round of the chess Olympiad
– (IM Michael Rahal, FIDE Press Officer, Chennai)
Organizing an event with more than 2500 players, coaches, captains, referees and members of the organization is not easy at all. It requires an experienced management team, with the ability to foresee all kinds of adverse circumstances and have an accurate response for each case. This afternoon it became clear that the organizational teams of the International Chess Federation and the All Indian Chess Federation have been successful in this endeavour.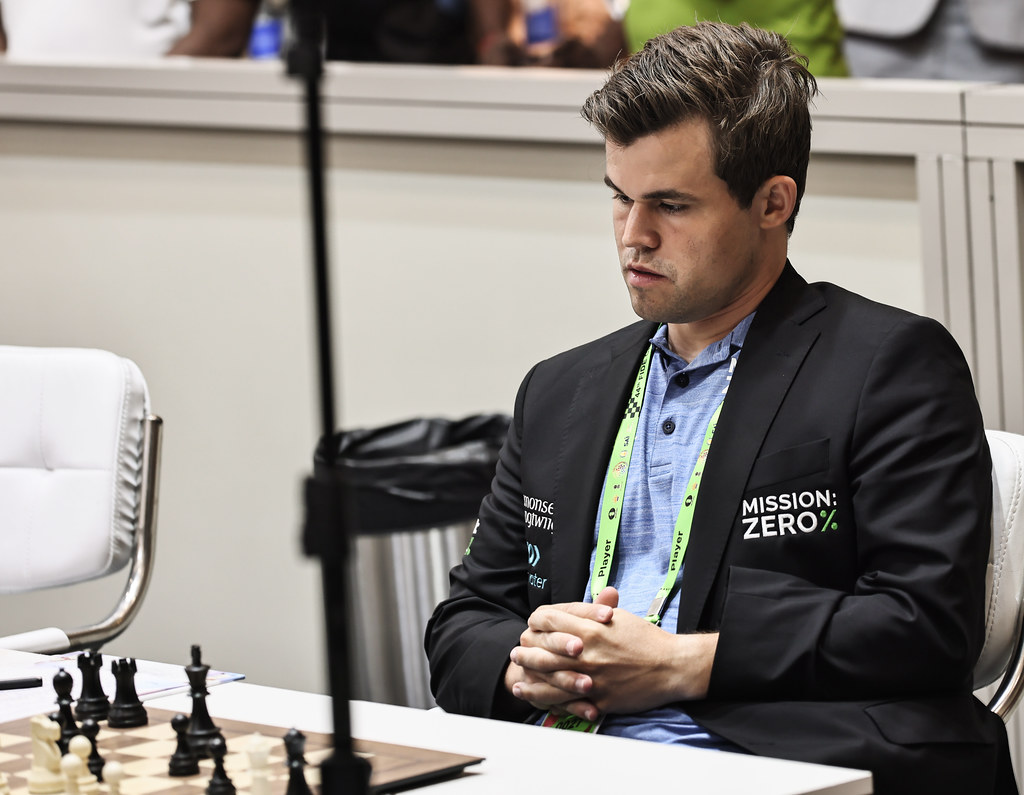 One of the players in the secondary venue had an important medical emergency during the game.  Arbiter Geert Bailleul, a trained nurse, immediately attended the player, with the help of sector managers Omar Salama and Nebojsa Baralic shortly afterwards.
Less than ten minutes later an ambulance was on location ready to transport the player to hospital. Rather than letting the clock run out of time and win the game on time, his opponent offered a draw which was accepted by the team captain. Gens una sumus!
Having the World Champion in your team doesn't guarantee the win. In their match-up against Italy, captain Loek van Wely's strategy was clear:  neutralize Carlsen on board one – Vocaturo played a solid exchange Caro-Kann and achieved a well-deserved draw – and take their chances on the other three boards.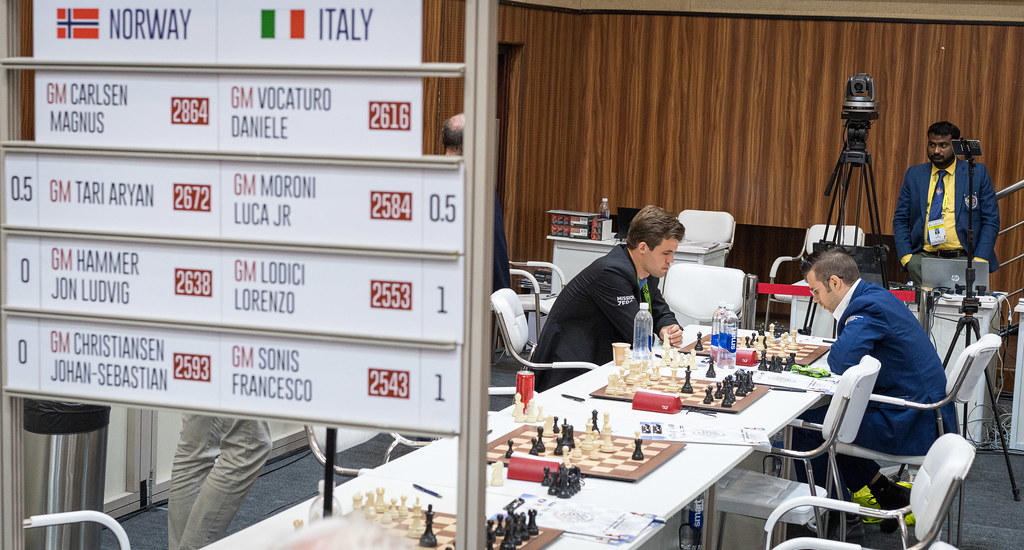 His strategy paid off. With two wins on the lower boards – Lodici and Sonis took down Hammer and Christiansen respectively – Italy pulled off the main surprise of the round, defeating seed three by 2.5-1.5. A huge result for the Mediterranean's, who were extremely happy in the postgame interview.
Meanwhile, all three Indian teams won their matches. India A defeated Greece by a clear 3-1 score, with Harikrishna and Arjun Erigaisi as local heroes of the day, while India B, filled to the brim with top youngsters, destroyed Switzerland by 4-0.
Team C took down Iceland also by a 3-1 score. India B now leads the tournament as they are the only team to have won all twelve of their games.
Playing third board for India B this afternoon, RameshBabu Praggnanandhaa, wriggled out of a totally lost position against seasoned swiss GM Yannick Pelletier. Without giving up, the teenager continued to pose problems, making it difficult for his opponent to find a clear winning line. Eventually, Pelletier, short on time, lost on move 67.
Demonstrating once again his learning mentality, "Prag" declared: "I have played badly, and this point doesn't give me any joy. I struggled throughout this game in a bad position and I feel sorry for my opponent".
In a more pragmatic fashion, his team B captain R B Ramesh said "In any professional sport one has to be ready any type of position and situations. It's actually better that this situation has happened sooner than later in the event".
Both Prag and Ramesh briefly gave their thoughts to FIDE Press Officer Michael Rahal at the end of the round.
Team USA continued their winning streak in round three against Georgia, notching up a final 3-1 score, thanks to Levon Aronian's masterful exploit of his space advantage against a tough opponent.
His teammate San Shankland also slowly but surely pushed his opponent off the board, scoring his second win of the series, while both Fabiano Caruana and Lenier Dominguez kept their opponent's at bay with the black pieces.
It's already twelve years since Caruana last came to India: "It's good to be in India. I don't have the chance to come very often to this country; my last time was 12 years ago. It's very good to be here! It's a beautiful country." See the rest of his postgame interview here
Twenty teams still have a 100% score and will face each other in tomorrow's fourth round match-ups. All encounters will surely be fast and furious but special attention should be paid to France-India 1 on match one and USA-Uzbekistan on match two. Uzbekistan is a very young but very strong team, still undefeated on all five boards.
India 3-Spain on match three will be a huge test for both teams, while India 2 will have a chance to put Italy to a stop after their stunning victory today over Carlsen's Norway.
Games will begin at 3pm sharp and can be followed live on the tournament website.
For a complete list of results, please visit the official website at https://chennai2022.fide.com/open-results/
Photos: Lennart Ootes, Mark Livshitz and Stev Bonhage