–   (IM Michael Rahal, FIDE Press Officer, Chennai)
The fourth round began this afternoon with the traditional first-move, performed on this occasion on board one of the Women's India-Hungary match by managing director of Microsense, Mr S. Kailasanathan.
After some action-packed days with regard to media coverage – "India is crazy for chess" was my observation on social media – players are now much more relaxed when the entourage comes along for the opening ceremony.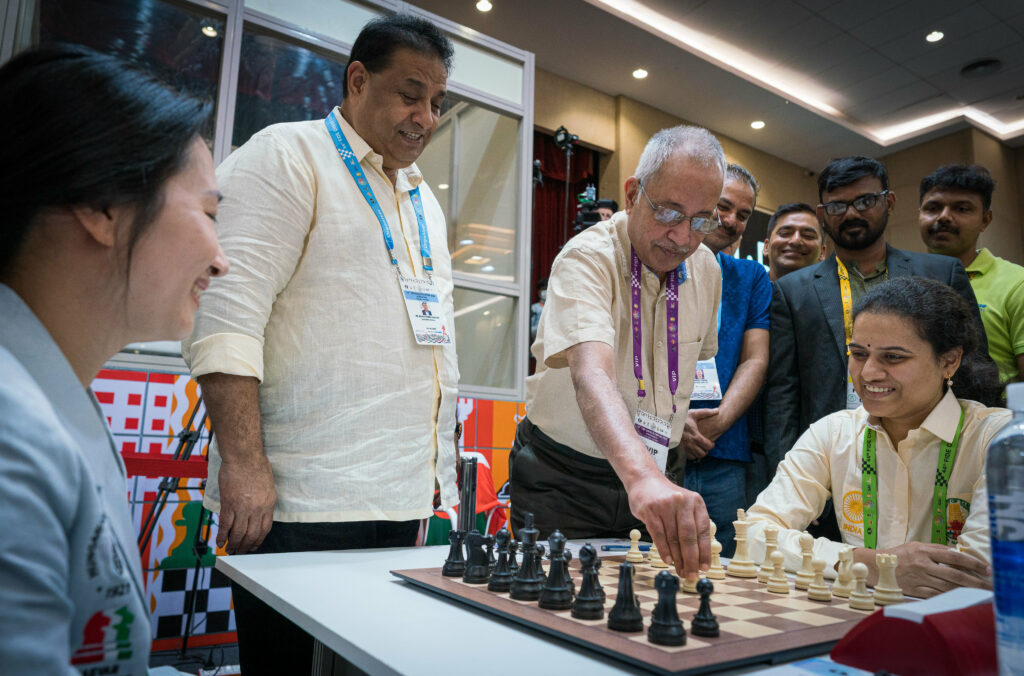 Uzbekistan coach Ivan Sokolov was understandingly very happy when both of the games seemed to be going his way, but suddenly on board four Vakhidov blundered a winning position against Shankland, which meant that Abdusattorov's great win against Fabiano Caruana on board one was just enough to score the draw.
In his post-match press conference at the media centre, Sokolov lamented his bad luck. "I would have immediately taken the draw before starting the match but I think we have fallen short".
The tough matches between Poland vs Romania, Canada vs Iran and Turkey vs Azerbaijan also ended in 2-2 draws, allowing other strong teams to pull ahead in the standings.
Spain's victory over India C by 2.5-1.5 (Anton Guijarro won the key point) will allow the Spaniards to start from pole position tomorrow. Still unbeaten individually, they have come to play with their best team in many years and the Olympic medal is the target. However, they have been matched up in the fifth round with India B, who took down Italy by 3-1 this afternoon and are also undefeated individually – for sure a great match ahead for all to enjoy.
In addition to Spain and India B, three other teams went to dinner tonight with 8/8 points. England, who defeated Serbia by 3.5-1.5, have been paired against Armenia, who took down Austria by 3-1. They have arrived in great form, led by their lifetime top board Michael Adams, and are all still undefeated.
However, David Howell is clearly the mainstay of the team at the moment, scoring 4/4 on third board.  Nonetheless, they would do well not to sleep on Armenia: a very tough and experienced team, and Olympic medallist in previous years.
Adams was kind enough to share his thoughts with FIDE Press Officer Michael Rahal in a short post-game interview.
The final team on 8/8 is Israel, who perhaps made the biggest surprise of the day, defeating the Dutch team – led by Anish Giri – by 2.5-1.5, thanks to veteran Ilya Smirin's win on third board against Erwin l'Ami.
Another very strong team, Israel has five very experienced +2600 players who are also unbeaten at the moment and in very good shape. Tomorrow's match-up against number one seed USA will be a huge challenge to see what they are capable of doing in Chennai.
Some other very surprising results today were Zambia – seeded 73 – once again defeating a much stronger team –  this time Egypt – by 2.5-1.5 and above all Norway vs Mongolia – after losing yesterday to Italy everyone expected seed number three Norway, with Carlsen on board one, to bounce back   with a win, but seed 45 Mongolia kept them at bay with a 2-2 tie.
Games will begin at 3pm sharp and can be followed live on the tournament website.
For a complete list of results, please visit the official website at https://chennai2022.fide.com/open-results/
Photos: Lennart Ootes, Mark Livshitz and Stev Bonhage